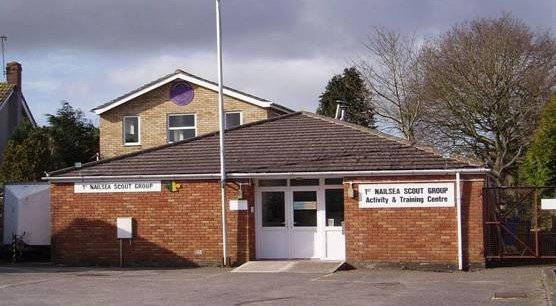 The group registration of 9243 became effective on 30th September 1920.  At that time Nailsea was a small village with a population of 1900.
Initially the meetings were held in the drill hall, now the Masonic lodge.
Scout Band formed in March 1921
The group quickly grew to 3 troops making the drill hall too small plus noise was strictly prohibited thus making it difficult to train the scouts.
August 1924 reported that they had raised sufficient funds to purchase a site and erect their own HQ. Hence a ¼ acre plot "on the road to Tickenham" was purchases for £50 and the new HQ was opened 13th December 1924.
December 1926 a water supply was added – guttering around the HQ and water collection in a galvanised tank.
Electric lights added July 1929 which replaced oil lamps.
On 18th September 1965 "The Hut", which had served the group for 40 years, was replaced with the current hall and front entrance.
In 1975 two rooms were added at the rear of HQ.
On 30th September 1990 the latest extension was opened. This comprised of a new stores facility above which was a dedicatedtraining room with all modern facilities.
What was referred to in the beginning as "The Hut" is now called the "Activity and Training Centre".